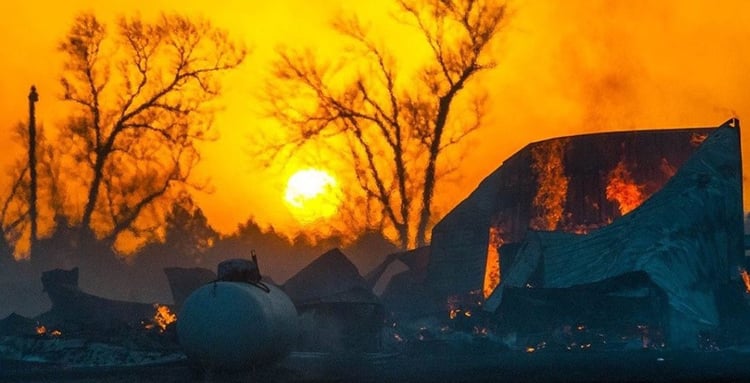 On March 6, a wildfire started in northeast Colorado near the South Platte River and burned more than 32,500 acres of land in Logan and Phillips counties. With the help of 120 brave firefighters and equipment from 17 local fire departments, the fire was contained on March 8. Drought conditions and 40 - 60 mph winds fueled the wildfire, which spread 26 miles across Interstate 76.


In Logan and Phillips counties, four homes were destroyed, along with several outbuildings. The property of 70 landowners was damaged. Around 195 cattle died in the fire. Freshly planted fields have turned to ash. Wildly expensive farm machinery melted where it stood. Phillips County Commissioner, Joe Kinni, told The Denver Post, "the economic damage to this county is going to be phenomenal."

The fire is not the real story.

The real story is the army of community volunteers picking up the pieces. The real story is ash blowing off barren fields to wreak havoc on nearby irrigation systems, farm machinery, and air filters. The real story is the scramble for farmers to plant oats in burnt soil to save their land from further erosion. The real story is how farmers and ranchers now have to spend millions of dollars to replace vital equipment, and how they have no time to raise the money they need.

The recovery is, and will continue to be, the real story.
Communities Stick Together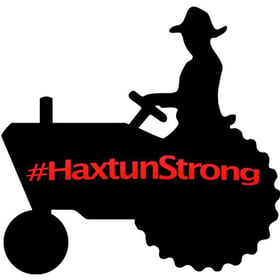 Gov. John Hickenlooper formally declared Logan and Phillips counties disaster areas on March 21, two weeks after the fire was contained. Federal aid is on its way, but, in the meantime, local community members and organizations have rallied to contribute to immediate fire relief efforts.

The Fence Post reports donations from near and far have been a huge help. Bales of wheat, hay, feed, and oats to plant have been donated from local and national sources.

Koberstein Farms Angus operation was untouched by the wildfire, but immediately lent support to their neighbors. They donated personal clothes, raised $7,000 in an Angus Sale, and donated another $1,000 directly for the fire relief fund.

TGS Welding LLC also donated a hog to the Wiggins FFA hired hand auction which sold for more than $3,000. Donation buckets were passed around at 1A and 2A Colorado State Basketball tournaments. Both contributions have been sent to the fire relief fund. The United Methodist Community of Relief sent eight pallets of cleaning supplies for those affected by the fire.

Viaero is working with local business owners in Haxtun to help with the relief effort. When firefighters couldn't get service on their phones, Viaero provided free loaner phones and service so they could coordinate their response. We arranged free ProConnect internet service for the community incident command crew out of the Haxtun Community Center. We will soon be collecting donations at our stores for fire victims (stay tuned to our Facebook page for more details).

The community incident command group out of Haxtun Community Center is made up of local farmers, business owners, and residents who started working on fire relief almost as soon as the fire began. They have drawn up donation lists and are organizing farm equipment. They have coordinated with Haxtun Chamber of Commerce and the Haxtun Community Federal Credit Union to set up fire relief funds.
Pro Till, a local business in Haxtun, is open to all who are affected by the fire. It is serving a drop and distribution point for donations and supplies, including food, water, clothes, cleaning supplies, and household items. Anyone who wants to help or get help is encouraged to visit.
How You Can Help
You can get updates on the fire relief progress from the Haxtun Community Fire Relief Facebook page, the Pro Till Facebook page.

If you want to help out with the fire relief, you can send monetary donations to:

Haxtun Chamber of Commerce
C/O Haxtun Fire Relief
P.O. BOX 38
Haxtun, CO 80731
All donations will stay in the community. The Haxtun Community Federal Credit Union has set up several accounts to distribute funds directly to those who have been affected by the wildfire. These funds will go to help general fire relief, local fire departments, and agricultural losses, necessities, and assistance. Ten accounts have been established to assist specific families who were affected by the fire. Additional accounts may be added at any time as needed.

If you choose, you can specify which area you want your donations to go to. Otherwise, an advisory board of community members will disburse the funds based on who needs them the most.
You can also attend a local fundraising event on Saturday, April 15, from 6 – 7 p.m., at the Haxtun Firehall. Musicians Braydon Zink and Madison Rodges will be playing to raise funds. You can set yourself a reminder on Braydon Zink's website.
When tragedy strikes our community, every little bit counts. If you're able to help out in any way, whether it's time or money, your contribution can make a huge difference.