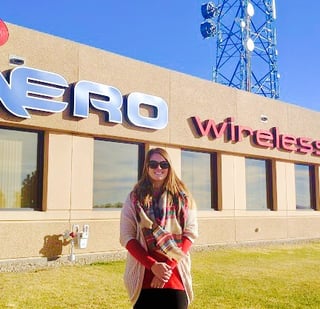 The heartland represents hardworking, loyal and gracious people that encompass our customer base at Viaero Wireless. We make it a top priority to not only provide excellent wireless service to them, but to be involved and present in community events. Our Community Outreach Marketing Managers (COMMs) work hard to organize and participate in such events.

Andrea Barr is a COMM in charge of our wireless territories covering the eastern plains of Colorado and parts of northwestern Nebraska.

Originally from Marshall, MO, Andrea and her husband (married in June of 2016) moved to the Fort Morgan area about two years ago when she joined the Viaero team.

Andrea was gracious to grant us a candid one-on-one interview about her role as COMM, community events she's a part of, and what our rural residents mean to her.

Q: Can you briefly describe your role as a Community Outreach Marketing Manager with Viaero Wireless?

A: Yes. I plan all of our community events in my region. They include Bobstock Music Festival that we have in Fort Morgan every year in July, and Pedal the Plains, which is in the middle of September and is a 3-day bike ride in three different towns. The bike ride is designed to bring people in larger cities to our rural areas.

I also plan Christmas Capital of the Plains which is a huge event for Fort Morgan during the holiday season.

Also, I'm in charge of smaller events that our individual stores hold which can be as small as coloring contests driving people into stores with their kids to win prizes, or adoption days that we've held in partnership with the Humane Society where activation fees are waived for those that adopt a dog. We have great success with these smaller events, especially in the Fort Morgan area.

I'm basically involved with anything that has to do with community outreach or community involvement in Colorado and northwestern Nebraska. My job is to take care of our rural residents and make sure we're involved with local schools and those sorts of things.

Q: When Viaero sponsors an event, what are some of the things they provide?

A: It can range from simply writing a check and being present at an event to providing bottled water and snacks, providing cellphone charging stations, or hanging banners. It really depends on each event and the scale of them.

Cellphone charging stations are available upon request but we always provide them at larger events like Pedal the Plains and Bobstock Music Festival where participants spend much of the day attending them and may need a charge during that time.

Q: What are some of the larger events you're a part of over the last two years?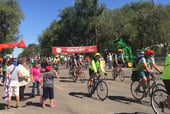 A: The largest event would definitely be Pedal the Plains. I've planned two of them so far and they have been huge for the community and for myself. Pedal the Plains brought a little over 1,000 riders this year and was held in three small towns that change each year. The goal is to drive awareness and revenue to small towns across the eastern plains of Colorado.


We setup cellphone charging stations and provide bottled water and snacks at each of the major stops along the bike route. Last year, we setup a weather camera station to show attendees how our live weathercam videos work on our towers that Channel 7 uses because that was a new feature for us and people were very interested in seeing how they work.

The 2-day Bobstock Music Festival is another big event for us. We give out free snow-cones, popcorn, and have drawings and giveaways for technology-baskets including waterproof speakers and other tech items.

Q: What do rural residents seem to enjoy the most about Viaero's presence at community events?

A: At outdoor events, people enjoy the free water and snacks, as well as chapstick and sunscreen. People really love the chapstick and sunscreen because they come to festivals and bike rides and forget to bring these items. They are relieved to know they don't have to buy an overpriced bottle of sunscreen because Viaero has them covered.

Over the past two years, a lot of people come up to our booths and thank us for being there and giving out free items. They are super grateful for it and it gets us noticed for being involved in the community.



People are in awe of our cellphone charging stations too. We have cords that fit just about any smartphone and they love that. Although, there are some older residents that still have the much older flip-phones we don't have cords for, but that's a rare occurrence. We take this opportunity to recommend talking to one of our sales reps for upgrading their phone.


Q: Do you have a favorite event or location in your region? If so, why?

A: My favorite community event would be Santa House which we sponsor in conjunction with Christmas Capital of the Plains in Fort Morgan. Christmas Capitol of the Plains is an event the Media Logic Radio puts on, and we sponsor the Santa House. The Santa House is a big red barn where Santa sits and we have a Viearo banner hanging over it. We take pictures of children sitting on Santa's lap. The event also has "Snowzilla" which is a giant inflatable slide that children get to slide down before and after seeing Santa.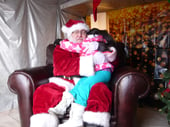 The reason that is one of my favorite events is because I love to see the kids get so excited and because Christmas is my favorite holiday. Seeing the kids say, "oh my gosh, I can't wait to tell Santa what I want," is a great joy.

Some kids don't ask for anything for themselves. Instead they ask for Santa to bring their parents money because they deserve it, and that just warms my heart. It amazes me that kids feel that way and it brings you back down to earth.

I really enjoy planning all of the events because I have a passion for it, period. You can ask me to setup a pick-up-trash day and I would have it covered and enjoy doing it.

Q: Are there any common question or concerns expressed by our rural residents at events?

A: People often have questions about our wireless service and technology, but no one ever expresses concern about our involvement in the community. Questions include why a particular symbol is showing up on their mobile screen or where we have towers located in their area.

Q: Can you describe Viaero's rural communities in one sentence or short answer?

A: I would say they are very appreciative and loyal. Very loyal people, and welcoming. When my husband and I moved here almost two years ago, we were pleasantly surprised at how welcoming they were. We found that the rural communities were much more inviting than larger cities along the Front Range.

We appreciate Andrea's time in giving this interview and hope you, in the community, have a better understanding of what our COMMs do to serve our rural areas.

Request a sponsorship for your Community Event