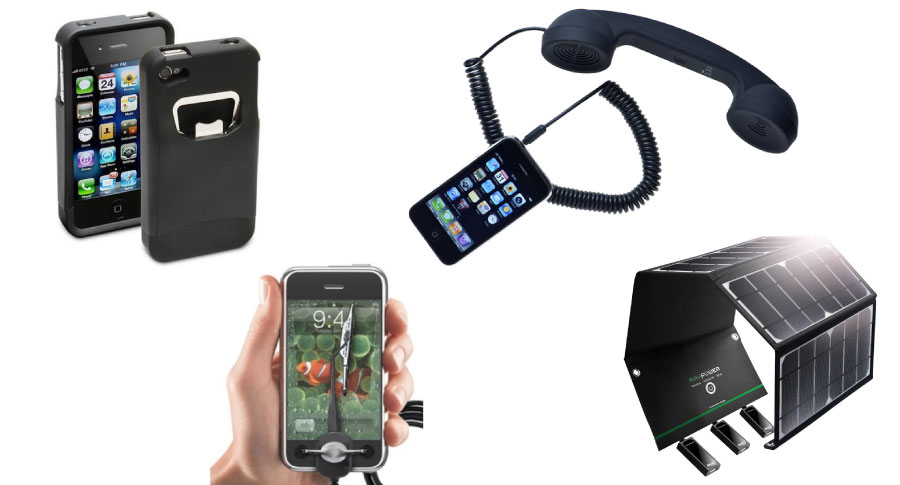 Owning a smartphone allows you to accomplish a variety of tasks, whether you're at home or on the go. Smartphone accessories can help expand the types of tasks you can perform and help protect your phone. But what about the accessories and attachments that seem a little wacky or you may not have heard of? What are they and what can you use them for?
Looking for accessories for your smartphone? Check out what we have to offer! Learn about phone cases and screen protectors, power adapters, and more!
Unique Smartphone Accessories List
Smartphone Projector: Use this accessory to turn your phone into a portable projector! You can project videos played from your phone onto any wall and the videos will show up as much as eight times the size of your phone's screen, according to Erin McCarthy of Mental Floss.
Solar Charger: Forgot your battery backup or power cord? Feel like going green? Won't have access to electricity for a while? Try a solar charger for your phone! Android Booth reports that most portable solar chargers can plug into your phone's USB port and produce a full charge in a few hours.
Lightweight Selfie Stick: Known as the Cliquefie according to Digital Trends, this selfie stick is more portable, lightweight, and inconspicuous. Besides functioning as a selfie stick, this device comes with a Bluetooth remote and a mount for your phone. While selfie sticks have been a popular way to safely take photos from different angles, the Cliquefie offers an option that can easily fit in a purse or pocket.
Anti-Gravity Phone Case: When you think of buying a phone case, you want something that will protect your phone in case you drop it or accidentally get it wet. What if you could buy a case that protects your phone and will let you stick it to any wall or window? You're in luck if you own an iPhone and buy an anti-gravity phone case! It's an easy way to use your phone hands-free and one of several useful iPhone accessories.
Anemometer: Although it's not the most obscure accessory, if your work is weather-related or you just like keeping up with what's happening outdoors, you can check the wind speeds with an anemometer. According to Business Insider, the accessory works with an iPhone app that will tell you the direction and speed of the wind.
Bottle Opener Phone Case: With this phone case, you can now turn your smartphone into a bottle opener. Of the smartphone gadgets on this list, it's one that you'll want to use and store carefully due to its sharp edges.
Legacy Phone Handset: If you're feeling nostalgic or want to know what it was like to use a landline phone, you can plug in a legacy handset into your smartphone's headphone jack. You can even get the handsets in different colors!
Screen Windshield Wiper: Don't want to invest in a screen protector? Attach a screen windshield wiper! It'll wipe away moisture just like your car's windshield wipers! Although it won't substitute for water-resistant or waterproof materials, it might become available for iPhones according to Tom's Guide.
Dog Selfie: Marketed as the "Pooch Selfie," this attachment includes a tennis ball that clips onto the top of your smartphone. The idea is to keep your dog's attention while you take a picture. As reported by Mental Floss, the tennis ball even squeaks.
Travel Adapter: This accessory isn't so much crazy as it is practical if you travel outside the United States. The adapter helps keep your phone charged while traveling in the United Kingdom, Europe, and Australia where different voltages are the standard.
Nose Hair Trimmer: Yes, that's right. You can purchase a portable nose hair trimmer that will plug into your smartphone. According to CNET, the device is sold in Japan but may be able to be shipped to other countries. The attachment works with either Androids or iPhones.
What do you think about these types of cell phone accessories and smartphone attachments? Would you ever use them? Have you ever bought or used something similar or unique? Tell us about your experiences in the comments box below!