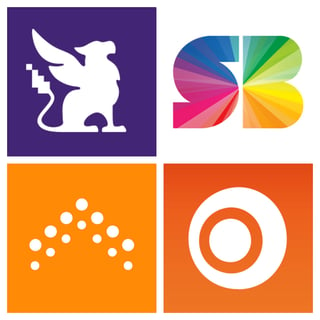 We get into this pattern every year: It's a New Year and it's time for change. But then, inevitably, we fail. In recent years, the news is riddled with why we're so bad at New Year's resolutions.

Social science researchers from the Wharton School at the University of Pennsylvania looked into why we even bother with making New Year's resolutions. They found that the start of a year is a "temporal landmark," basically an easy way to separate the "new" you from the "old" you. And this feeling isn't restricted to January 1. The researchers found these temporal landmarks can occur on birthdays, the start of the month, and even the start of the week.
But this temporal landmark is what trips us up. If you're already thinking about yourself as the new and improved version, you're setting yourself up for failure. You have to recognize that if you want to make a change, the progress will be slow and you will slip up every now and then.

Another reason we fail our resolutions is our lack of motivation. You need discipline to make a change in your life. Plenty of apps track your New Year's resolutions, from getting in shape to eating healthy. But unless graphs really get you going, simply tracking is not great motivation.

Lately, smartphone apps have been popping up to trick your brain into doing things it doesn't want to do by turning it into a game, creating positive encouragement, and dealing out real-world punishments.
Habitica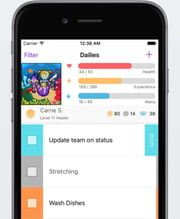 Free on iOS and Android

Habitica is a role playing game where you are the character. Unlike health-focused apps, Habitica is what you make it—you can pick habits you want to cultivate, daily things you want to do, and one-time tasks.
You can join a party or guild for social support, go on quests to fight bosses like the Snackless Monster, and even join challenges for bragging rights and in-game rewards. Boss damage is based on you completing your tasks, so sucking it up and going to the gym is one step further in the game.
SuperBetter
Free on iOS and Android

Created by a game designer who was suffering debilitating effects from a brain injury, SuperBetter lets you create a superhero persona to motivate yourself to overcome challenges. Like Habitica, SuperBetter gives you the options to cultivate habits, set daily goals, and work toward what they call "Epic Wins" (like that book you want to write or that marathon you want to run).

In a randomized controlled study from the University of Pennsylvania, researchers found that playing SuperBetter for 30 days increases happiness, life satisfaction, optimism, social support, and the player's belief in their ability to achieve their goals.

Apps like Habitica and SuperBetter are becoming more widely available (and specialized). But let's talk about the flip side of positive reinforcement. Avoiding punishment can be a great motivation, if that's your thing. And there are plenty of apps that offer to punish you if you do not accomplish your goals.
Pact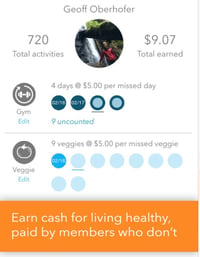 Free(ish) on iOS and Android

Pact is the most narrowly focused app on our list, because it is exclusively concerned with healthy living. They have three types of commitments: a gym pact, a veggie pact, and a food log pact. Once you make your pact, you set a weekly goal, and what you'll pay if you don't make your goal. Now if you're unsure about putting money up against your resolutions, here's the trick: if you make your goal, you get paid by the people who fail that week.

Rewards for making your goal range between $0.30 to $5 a week, depending on the number of activities that week. The app verifies your commitment through location tracking and photos, so you and the other people actually complete your goals.
StickK
Free(ish) on iOS and Android

With a collective $27.7 million on the line, the users of StickK are motivated to, well, stick to their goals. Once you make a commitment to StickK, you put money on the line. Make your goal, and you get your money back. Fail, and your money goes to someone else. You can choose to give it to a friend, an enemy, or even a charity or organization you don't like.

With StickK, you also choose someone you know and trust to verify your progress, plus you can add friends to support your goal. There's even evidence to back up the power of StickK: a study from the Palo Alto Medical Research Foundation found that people who made a contract on StickK that would send their money to an organization they didn't like were more likely to meet their weight goal.

These apps and apps like them are a great way to motivate yourself to actually succeed, whatever your New Year's resolution is. What change would you like to make in 2017, and how do you plan on doing it? Let us know!