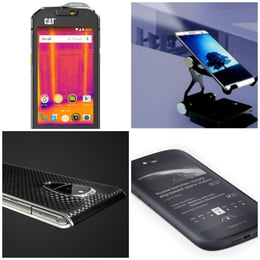 The smartphone market isn't all just Samsungs and iPhones. There are a lot of alternatives to these familiar brands, often with comparable features and a lower price tag.
But if you're looking to turn heads (or you have a pretty penny to spend), you might want to check out these weird but seriously cool phones.
CAT S60
What Makes it Weird: Thermal Imaging Camera and Waterproofing Switch

If you've seen the CAT logo, it's most likely been on the back of heavy-duty equipment. But CAT makes phones too. The S60 might look like a standard smartphone, but it includes a thermal imaging camera and it boasts one of the most waterproof designs on the market. Just a flick of a switch makes the phone waterproof up to 5 meters for an hour. Plus, the screen responds to wet fingers, so you can even take pictures underwater.



Check Out the CAT S60 in the Viaero Store.
Yota Yotaphone 2
What Makes it Weird: Dual Screens



There's a saying that two heads are better than one, but how about two screens? The Yota YotaPhone 2 features dual screens, and the rear screen includes the E Ink feature that allows you to easily read text even in bright sunlight. It's a little on the pricier side, but if you like the idea of having more screen but not a larger phone, the YotaPhone might be something to consider.
The YotaPhone 2 is available online from Yota and it will operate on Viaero's network.
Sirin Labs' Solarin
What Makes it Weird: Ultimate Cybersecurity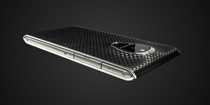 Maybe not so much weird as it is exceedingly excessive, Sirin Labs promises the highest possible cybersecurity there is for a smartphone… for a price. If you've got a cool $13,000 to blow on a new phone, the Solarin offers increased cybersecurity with the simple flick of a switch (which limits some device functions, but makes your phone super-secure). They even have partnerships with major security labs to protect the phone against network, malware, and physical attacks.
The Solarin is available online from Sirin Labs and it will operate on Viaero's network.
Akyumen Holofone
What Makes it Weird: Holographic Projector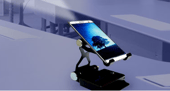 Technically it's a phablet, but the Akyumen Holofone has a surprising lump on the back of the cassis which contains a 35 lumen projector. It's only on preorder now, but the projector can reportedly project video and images of up to 100 inches diagonally (which is about 7.25 feet wide). It also features dual compatibility with Android and Windows operating systems, plus a 128 GB internal memory.
The Holofone is available for preorder from Akyumen and it will operate on Viaero's network.

If you're looking for a phone to set yourself apart, you have plenty of options aside from these four. Just make sure the phone you're interested in is unlocked for your region and carrier!