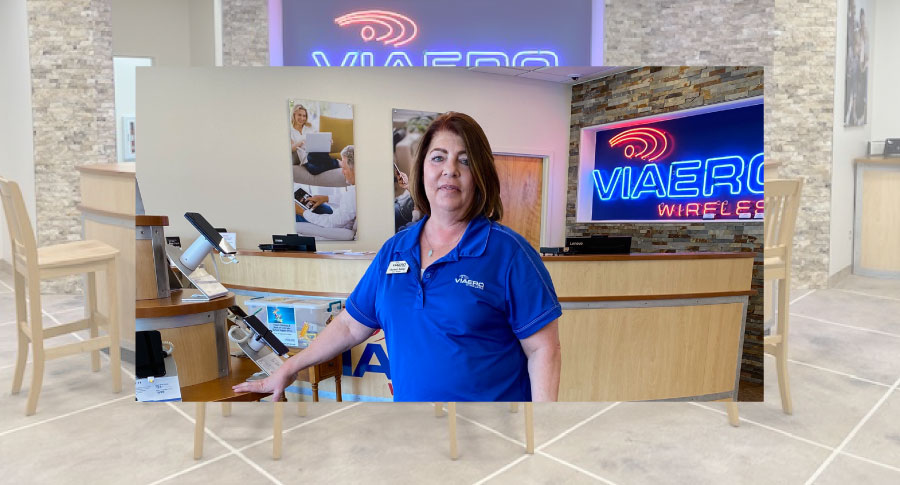 At Viaero Wireless, we like to attach a name to the friendly faces you interact with when you come into our stores. For this reason, we would like to introduce you to Charlotte Bolduc. She has been the manager of our Fort Morgan Viaero Wireless store for the past six years. However, she does more than serve our great community with their telecommunication needs.
Why Viaero
After relocating to the Fort Morgan area seven and a half years ago when her husband took on a new role with Xcel Energy, Charlotte found herself in a new environment quite different from the busy city life of Lakewood, CO. After settling in, she decided it was time for her to see what Fort Morgan had to offer. If you ask what made her decide to change from a career as a paralegal to one that involved telecommunications, she will let you know she did her research and found Viaero had some of the best employment reviews, offered job security, and allowed her to interact and meet new people, which is something she loves.
Road to management
Charlotte began her journey as a Customer Service Rep in September of 2013 and would eventually transfer into sales eight months later. While sales can be challenging, Charlotte gives credit to her past experiences in customer service and as a paralegal, which allows her to help customers "understand why we have regulations, understand our contracts and be able to explain to customers why we have them." A sale makes all the struggles worthwhile when she gets to see "the smile on a customer's face when they leave the store with their new device."

She also makes sure to give credit to her team, acknowledges they keep her motivated, and strives to make sure they provide the best customer experience. An additional motivation is working towards the goal of attending President's Club. This is a four-day company-sponsored trip that qualifying employees and spouses can attend. A sales associate qualifies by placing in the top twenty; however, as a store manager you must qualify in the top 10% of total sales throughout the company. This is a benchmark that Charlotte has been able to achieve once in 2017 and again as recently as 2019.
Trials and Tribulations
Being the store manager, Charlotte also takes on the role of a Viaero Ambassador. She is not afraid of getting out into the community to educate the public on the services we provide. Charlotte spends time at Cargill Meat Solutions and Leprino Food Company educating about the discounts employees are eligible for, as well as providing any tech support they may need.

During the fall and spring, you can catch her down at Legion Field in Fort Morgan, as she really enjoys being allowed to participate in the high school's sporting events. During football and baseball season, Charlotte and her team go to Legion Field and help where they can. Sometimes they stay busy handing out water, sunscreen and other trinkets while talking to parents and students about Viaero. During homecoming, Charlotte and her team participate in the Fort Morgan Homecoming Carnival, where they can set up a booth and allow children to play games and win trinkets, which is always a popular event for both the team and the community.
Life outside of Viaero
Charlotte isn't just involved with Viaero. When you sit down and speak with her, you can tell she is a proud mother and grandma as she shares a story about a weekend activity with her daughter and grandkids. If she isn't with her family, you might catch her planning her next getaway. Twenty years ago, she fell in love with traveling during her first trip to Japan where she was in awe over the Japanese culture and the architectural beauty of the Buddhist monasteries. Japan may have inspired her passion for travel; however, Paris is also a destination favorite as she could get lost in the museums absorbing all the history the city has to offer.

Charlotte is a great Viaero Ambassador as she goes the extra mile to ensure her customers have positive experiences and leave the store with smiles on their faces.
We encourage you to stop in or call 970.467.1111 to meet her or one of her fantastic team members.