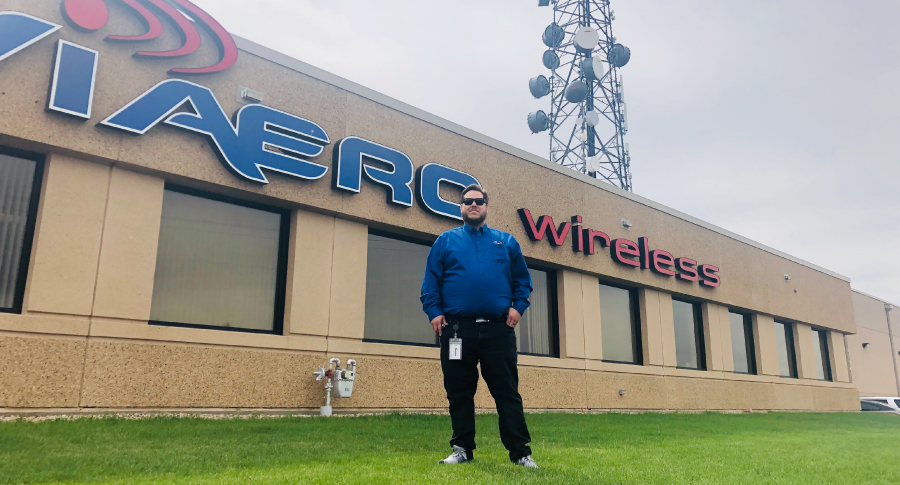 At Viaero, our goal is to provide our customers with a personalized experience, something our competitors don't often do to the same extent. Bill Kubic, one of the top members of our e-commerce sales team believes this personalized experience makes a significant difference. He says "Viaero really sends the message that we value you. A big company saying that is a big deal."
A couple of examples that Bill highlights are Viaero's relief programs for this year's Nebraska flood victims and furloughed government employees. He also points out that the company listens on a case by case basis to customers who have had negative experiences.
Top Sales Consultant
Bill is a 2019 President's Club winner. Each year, Viaero recognizes the top 20 sales representatives at President's Club. The honor is substantial since it involves an awards ceremony and a four-day trip for employees and their significant others.

This year's President's Club was held at Paradise Point resort in San Diego, California. "The company went out of the way to recognize everyone during the awards ceremony with the territory managers talking about each employee. It made you realize how much of an impact you made to the bigger picture."
Role and Challenges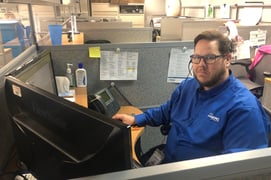 Viaero's sales team is the engine that keeps us running. While the bulk of our sales consultants work from retail locations, we also have an in-house e-commerce team of six employees. The e-commerce team handles customers' requests for new services generated from our website. Answering questions, redirecting calls, and closing sales are all part of the job.

Bill stated that the "biggest challenge" in the role is "not losing sight of your goal" and "remembering that you are your own success story." Bill can often be overheard providing that personalized customer experience that Viaero Wireless is known for. Bill is passionate about technology, sharing his knowledge, and interacting with people.
Manifesto
His passion and talent for making customers feel at ease were apparent in his first year with the company. Bill qualified for President's Club that year and was "ranked eight for sales" volume. Qualifying for the honor requires employees to demonstrate exceptional sales and customer service abilities.

Bill's "been in the (wireless) industry off and on since 2002." He keeps returning due to his combined passion for technology, devices, software, and people. Bill "enjoys the challenge of creating solutions where people don't see one. I like to think outside the box or find outside the box solutions in any situation."

He also wants to make sure customers are taken care of. He states "at the end of the day, I enjoy creating solutions for people. I want to ensure getting that phone has a positive memory attached to it."
Background and Passions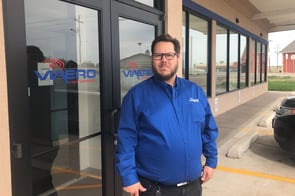 Bill believes people would be surprised "to know how long I've been in the industry and the perspective that gives me. I remember before texting was a thing. My first cell phone I had to carry in a bag; it was essentially the Miami Vice phone. I'm the technical SME (subject matter expert) on the team and I'm the oldest. I spend three-plus hours a night watching videos on technology at home."

Both Bill's passion for finding solutions for people and technical expertise recently helped him turn a poor customer experience around. The customer was seeking help with activating a new line of service but was concerned about her credit history.

She was "frustrated because she felt like she had gotten brushed off. She used to live in Colorado and now lives in Nebraska. She wanted to make the switch to Viaero because the phone service she had was not good and she needed good coverage. I told her we just need to try and start the process. I let her get her frustrations out and broke down the process for her. She ended up not needing any assistance or a deposit. She couldn't believe it and kept saying 'that's not right.' She now has two lines of service with us."

Outside of Viaero, Bill is "a big reader, a movie buff, and mostly a dad." He has a three-year-old son named Lukas Edwin, named after the character of Luke Skywalker from Star Wars and his wife's grandfather. Bill is quite proud that his son can already perform the "Imperial March" from the movie series on cue.

We are proud and grateful to have Bill as a member of our e-commerce sales team and we wish him many successful years ahead!

To contact a member of our e-commerce sales team about our current promotions, please call 1-877-842-3765 or visit viaero.com.