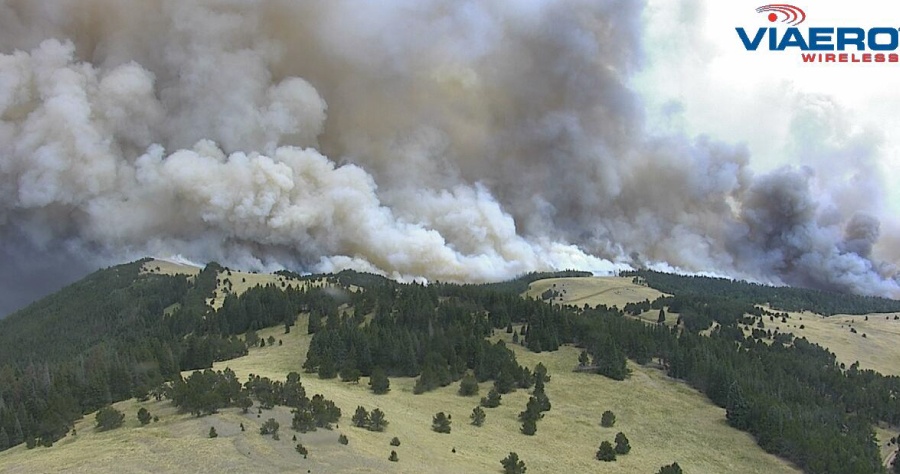 The Spring Fire began on Wednesday, June 27th in Costilla County, Colorado. According to Denver-based Channel 7 News, the fire is currently the largest burning blaze in the state, covering over 56,800 acres. With only ten percent containment as of July 3rd, several highways into the area remain closed. Evacuations and pre-evacuations are also underway in Huerfano and Costilla counties.
The fire is located five miles east of Fort Garland, along Highway 160 and Highway 12. A combination of dry conditions, hot weather, and winds has created challenges for fire fighters. The Costilla County Board of Supervisors has declared the area a disaster. Flames from the fire were reaching 300 feet above the trees, according to the Denver Post. Over 550 firefighters are trying to put out the fire from both the ground and the air.
Viaero's Sangre de Cristo Camera
Viaero Wireless installs and operates cameras from our cell towers, located throughout Colorado. Our Sangre de Cristo cell tower's camera has captured views of the Spring Fire as it has continued to burn. Residents of the area have expressed their appreciation for the camera's coverage of the fire. Several local news organizations, including KRDO News Channel 13, have been relying on the camera's coverage to bring residents and tourists live updates from the area.
View live stream videos of the current weather and fire conditions.

Impacts
According to KRDO, Highway 160 is closed from Colorado Road 159 and Colorado Road 12. Although structures have been burned as a result of the fire, it is unknown how many of those structures were residents' homes. The Red Cross has opened several shelters for those who have been forced to evacuate. Any scheduled deliveries and mail are currently being held at the Ft. Garland Post Office. At this time, no one has reported any injuries due to the fire.
Viaero Wireless expresses its concerns for those residents and firefighters affected by the Spring Fire.
What are your thoughts about the fire ? Do you live or work in the area, or know someone who does? How has it impacted you?