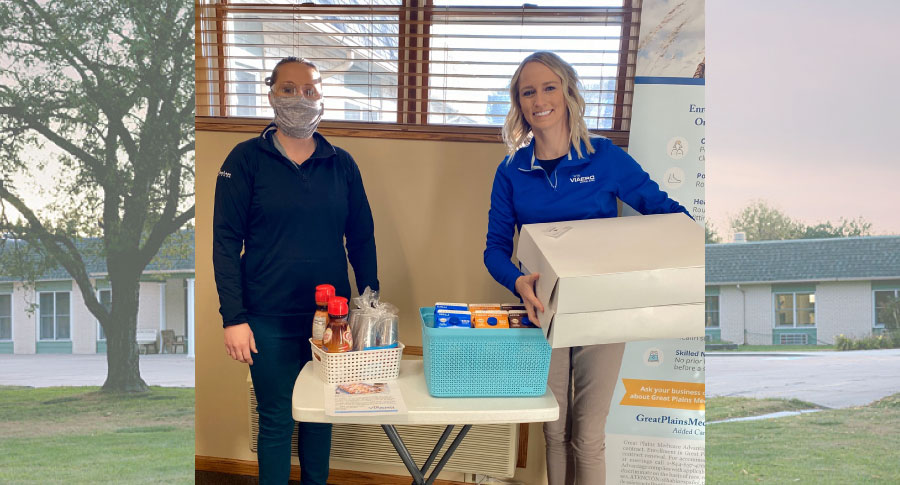 Our Loup City, Nebraska store team recently facilitated the donation of homemade cinnamon rolls and iced coffee to healthcare workers at Rose Lane Nursing Home. The donation was provided by both Viaero Wireless and Loup City Diner, a local small business with owners that also wanted to help the community. Four dozen homemade cinnamon rolls from Loup City Diner and six gallons of iced coffee with creamer were delivered to the nursing home by the store manager, Melissa Dush, on the morning of April 15th. The delivery was coordinated with Rose Lane's Director of Nursing, Andrea Obermiller.
Why Rose Lane Nursing Home?
The Loup City Viaero team chose to recognize the frontline healthcare workers at Rose Lane Nursing Home due to the current situation with COVID-19. The healthcare workers "deserve the recognition," according to Dush. "They are going above and beyond for their residents, providing them with unconventional ways to interact as they are social distancing. Employees there are working hard to find ways to keep everyone connected when they are unable to meet face to face."

Rose Lane Nursing Home is an organization the local Loup City team has supported in the past. Prior donations have included refreshments during sponsored events, such as the nursing home's "Glow Run." The local Viaero store also has an active history of support and engagement in the community. This support has included several initiatives, such as being a "drop off site for supplies to be donated to the community members in need" during last year's flooding, says Dush.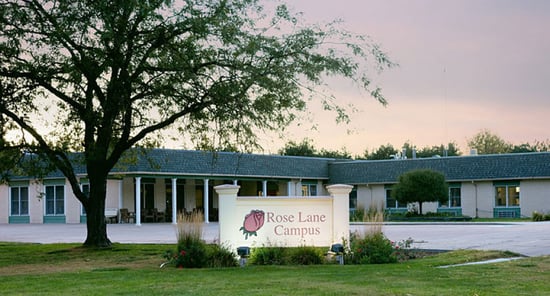 Community Involvement and Initiatives
The list of initiatives also includes donating "food and our time at the Red Cross Blood Drive in town. In the past on Wednesday's throughout the summer we would grill hotdogs for "Dog Days of Summer", all the proceeds were donated to the local After School Program. The Loup City Area Chamber of Commerce puts on many events throughout the year that we assist with, including the Chamber Easter Egg Hunt, Junk Jaunt, Polish Days, Christmas Cheer, Sherman County Fair BBQ, Chamber Golf Tournament, and the Back to School Teacher's Luncheon." The store also participates in at least one outreach or volunteer event in Loup City each month.

As secretary of the Loup City Chamber of Commerce, Dush recognizes the value of volunteering and forming connections (partnerships) in the community. She enjoys participating in community support events since "people deserving recognition are able to receive it and feel the support. It is an unexpected gesture that Viaero is allowing us the money and resources to make."

Melissa began her career with Viaero as a retail sales associate (RSA) in July of 2016. She recently took over the reins as the store manager in March of this year and has focused on helping the store grow its customer base and increase its community participation. She leads a team of two RSAs and enjoys giving back and supporting the Loup City community of 900 people. For Melissa, the best part about working for the company is "staying active in our community and donating our time and talents to keep this small town thriving."
COVID-19's Impact on Loup City
Although Loup City did not have any confirmed cases of COVID-19 as of April 14th, 2020, the community's normal way of life has been impacted. According to Melissa, "schools have shut down for the remainder of the school year, businesses are adjusting hours and operations to fit the guidelines set out by the CDC, and our local farmers are busy with their cows' calving and preparing for planting season. The fear, uncertainty, and volatility of the pandemic have altered the way that people go about their day to day lives. Everyone has been working hard to keep the community safe and doing their part to remain healthy."

She hopes Viaero's donation will not only bring recognition to "those who are sacrificing time with their families and risking exposure to keep everyone cared for and safe," but also inspire others to "show their support for the individuals on the front line."

For more information about the Loup City store and its community support efforts, please contact Melissa Dush at 308.745.5050.

To learn about how Viaero Wireless is responding to the COVID-19 pandemic, please click here.