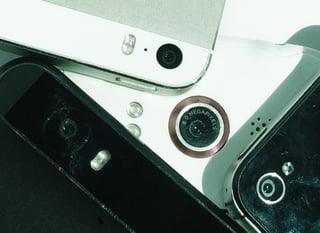 A cell phone isn't a cell phone unless it's equipped with a camera. Popular smartphone devices boast the latest features of their built-in digital cameras with the release of each new model. Our mobile cameras can take a basic picture, but there are some other uses too.

The first consumer-based camera phones appeared on the market around 2000. Now, users consider their device's camera to be as an important feature as any other. Social sharing of images while on-the-go is a widespread activity and cellphone cameras plays an integral role in this daily usage.

Characteristics of smartphone cameras continue to evolve along with all wireless technology features offered to consumers. We'll briefly discuss eight interesting and creative uses for your smartphone camera with four simple and four advanced items.
4 Simple Uses of the Cell Phone Camera
You always have a mirror with you if you have a smartphone. Simply use the front-facing camera feature to look at yourself on the screen. Touching the screen to focus on your face will provide a clearer image and better lighting.
Sometimes, simply taking a picture of something and sharing the image is better than trying to explain it. For example, a friend may be running late for a lunch date. Time may be of concern, so you can take a picture of the menu and text the image to your friend so they are ready to order upon arrival. The same principle can be applied to things like making a grocery list, organizing business card contacts, or having a point of reference for a public parking spot.
Use it as a document scanner for business purposes. If documents need to be sent back and forth requiring signatures and such, then capturing images of the documents can help with the sharing process. The images will automatically be stored on your mobile device thus making them ready to share via email or text.
Utilize the up and down volume buttons to take pictures instead of the screen button. Most smartphones include this feature and allow you to take selfies with a stretched out arm. You can't always quite reach the picture-taking button on the screen, so this feature simplifies the process by allowing you to press either the up or down volume buttons to snap an image.

Shop our website and find smartphones offering the best camera features available including the Samsung Galaxy S8+ and the Apple iPhone 8 Plus.
4 Advanced Uses of the Cellphone Camera
Taking pictures of UPC product barcodes can make shopping more efficient and cost-effective. Barcodes are labeled on all consumer products and several apps utilize the UPC images to provide you with a comparison shopping tool. A plethora of data is detailed by the mobile apps giving you listed prices from different store locations and online sources.
Visual search apps can determine your exact location based on images of things around you. Further, the apps can locate products and services near you. In other words, you can take a picture of the street corner in front of you and find out where you are and what stores are in the area.
When traveling to foreign countries, your cell phone camera is a great way to translate different languages. The Google Translate app is able to translate foreign text from the camera image on your cell phone. The desired translated text appears on the screen on top of the original foreign text of the image, thus giving travelers a handy tool to read signs and such.
Several entertainment and game apps utilize your mobile camera to interact with their platform. Interactive video games, like Pokemon Go, provide an augmented-reality game experience as their characters appear in the image seen in your camera. Players are provided with a mixed visual effect of both animated characters and real life.