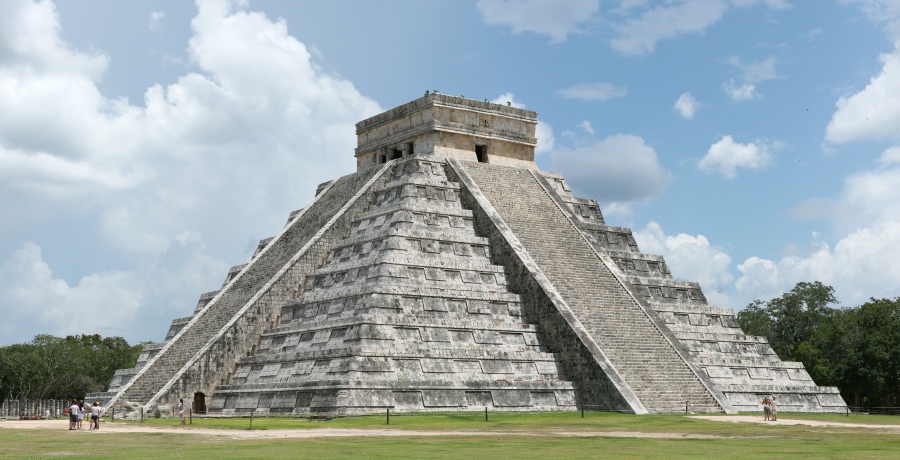 Thinking of traveling to Mexico? Already have plans to board the plane with anticipation of relaxing in the Yucatan, Mexico City, or Cabo San Lucas? Wondering if you're better off leaving your wireless phone at home? You might want to rethink leaving your phone behind, especially if your calling plan includes calls, texts, and data usage from Canada and Mexico, like Viaero's North America Share More and North America Unlimited LTE plans.
Although most travel adventures don't end up going awry, your phone can turn into a useful ally – whether your travels remain calm or become adventures you won't be able to forget.
Capture the Sights
It is day one and you've landed in the Yucatan Peninsula. You're surrounded by miles of rainforest, palm trees, limestone bedrock, and water falls. After checking into your hotel and eating a light lunch, you take a taxi over to the Chichen Itza Mayan pyramids.
You take a few pictures of the El Castillo and the Temple of Kukulcan. The air is heavy and the sun's heat is strong, causing your skin to break into beads of sweat. You need a break and see a few tourists headed towards the trees. You decide to follow, but not before you text your pictures back to your friends in Colorado, who are in the middle of a winter blizzard.
Get Out of the Unexpected
At the end of the path past the trees, you discover a waterfall and a sinkhole where the water is forming a pool of azure blue relief. As you step forward to get a closer look, your foot slips on the rock's edge and your passport falls out of your side pocket. You want to dive into the sinkhole to catch it, but it's already too late. The current of the water has carried your passport away.
You start to panic, putting your hand on top of your head in disbelief, but then remember you stored a picture of your passport and ID on your phone. You pull it out to make sure and sigh in relief as you find the pictures in your camera roll. You make a mental note to ask the hotel staff about the nearest embassy as soon as you get back.
Connect to What You Need
It is now day three and you need to call the shuttle company scheduled to take you on an outing. The bus is late and you need to know when it's going to finally arrive. You pull out your phone and dial the number on the back of the brochure. You get transferred back and forth until you finally reach a representative who confirms the bus got a flat tire on the way to your hotel. You won't be going to Cancun to zip line today, but you've got your adventure rescheduled for tomorrow.
The best part is you won't end up paying any extra charges. Your twenty minute call is included in your North America plan. With Viaero's newest plans, your voice, text and data service now includes Canada and Mexico. While you're out exploring the world, our global carrier partnerships ensure a great experience.