Senior citizen population percentages are beginning to increase in rural communities, according to studies by the U.S. Department of Housing and Urban Development. By comparison, the percentage of seniors living in rural areas surpasses the percentages in urban and suburban communities.
Rural seniors can face unique challenges that come from living independently in areas without the same resources as suburbs and major cities.
Making Connections
Wireless technology can help keep seniors connected to grandchildren, families, friends, and emergency first responders. A cell phone, tablet, or computer connected to the internet can build a supportive bridge between a senior's world and those who live outside of it.
Kimberly Fowler of Senior Living Blog says grandparents have a lot to offer their grandchildren when the two connect through technology.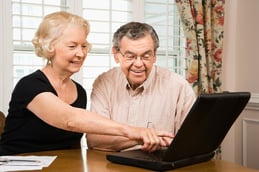 Grandparents can be good listeners, have time to talk and interact online, and share their perspectives on history and society. By spending time with their grandparents online, grandchildren can make them feel valued, bring purpose to their lives, and motivate them to remain active. Grandchildren can also offer friendship and teach their elders internet skills.
Factors Preventing Adoption of Technology
More seniors are embracing technology, such as smartphones and internet service. Despite this growth in use, fewer seniors own smartphones compared to younger age groups, according to Pew Research Center.
Two main reasons why seniors are hesitant to adopt technology include being uncomfortable with using a device on their own and wanting others to help show them the ropes. This is where connections with family members, friends, and community resources can become invaluable in teaching seniors the skills they need to feel comfortable.
Keeping Connected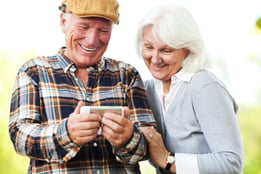 Once seniors become comfortable using technology, they tend to use it frequently. Seventy-six percent of those who use smartphones access the internet several times a day from their devices, according to Pew Research Center. They enjoy using social media, playing online games, and find that wireless phone service with a smartphone can be essential in emergencies.
With traditional landline service becoming less popular and more difficult to maintain, wireless phone service can be an optimal option for seniors to keep connected to others.
Fixed incomes can sometimes create obstacles for seniors who wish to embrace newer technologies. The Federal Communications Commission (FCC) oversees the Lifeline program, which provides monthly discounts on wireless phone service to subscribers who meet low-income requirements. Piggy-backing off family share plans can also be an affordable choice.
When seniors learn how to embrace technology, it helps them feel less isolated, strengthens emotional bonds, and they become aware of best practices related to digital citizenship and online safety.
Have you been able to help someone older learn how to use wireless technology? Do you know of someone who has used community resources, such as classes at a local library, to learn about using smartphones or the internet? Let us know about the experience and what they learned!