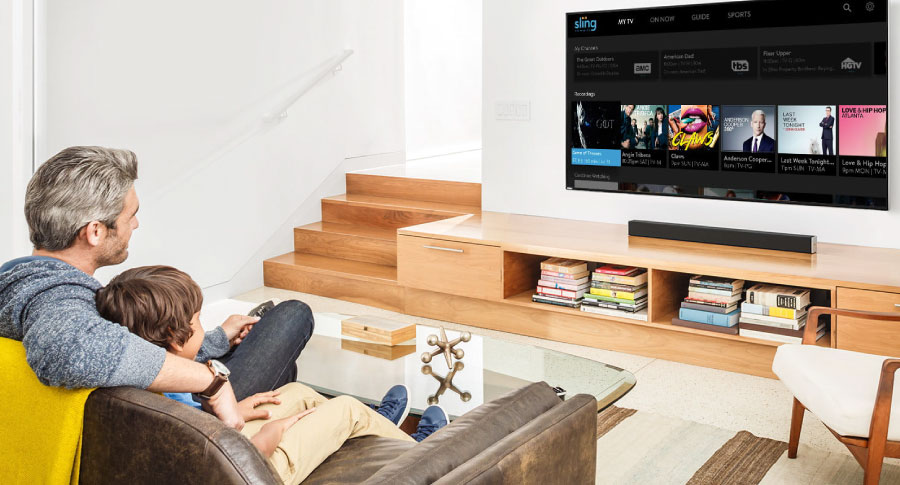 How exactly did the cable industry start losing ground and does it have a future? Even though 44% of American households still subscribe to cable, the number of households that have cut the cord so far is at 33 million, as reported by techjury. Price and content availability are the two top drivers among cord cutters and those thinking about cutting the cord.
Looking for a cellular plan with a streaming discount? Learn more about Viaero's Unlimited HD Plus and Unlimited HD!
Contributing Factors
CordCutting reports that monthly subscription prices for cable started rising sharply in the early 2000s. The rapid increase in prices plus growing dissatisfaction with programming created ripe conditions for cord-cutting. However, other factors also helped drive the trend.

The first streaming service, MLB.TV, appeared in 2003, according to CordCutting. MLB.TV made it possible for viewers to watch major league baseball games on demand. Government regulations also required over the air broadcasts to switch from analog to digital, making high-definition television possible.

Netflix, another major factor that contributed to the rise of cord-cutting, entered the entertainment market in the late 1990s. Although Netflix initially offered a mail-based movie rental service, it eventually switched to a streaming video on demand or SVOD service. Competing SVOD services began to come on the scene in 2007, giving consumers more choices and promises of better prices.
Delivery and Cord Cutting Devices
Although Smart TVs and high-speed internet have made modern cord-cutting seamless, the early days presented some challenges, including:
Older television sets not equipped with an Ethernet or wireless internet connection.
Television sets that needed a digital converter.
The absence of live TV streaming packages or options.
Higher prices for broadband and high-speed internet.
Availability of adequate internet speeds.
Streaming devices like the AirTV Media Player made it possible to access content on older televisions and non-Smart TVs. The increased availability of higher internet speeds in more areas means more consumers were now able to stream SD, HD, and Ultra HD video. Portable streaming devices that plug into USB ports have increased the convenience of being able to stream on-the-go and from different devices. For those who haven't converted to a Smart TV, USB sticks and media players are economical, simplified ways to stream.
Current State
Cord-cutting, the loss of cable subscribers, and the number of streaming options all continue to increase. With a larger number of choices, it is easy to get confused about how many streaming services you need. Consumers are also susceptible to racking up monthly charges equivalent to cable packages. Added to the cost of high-speed internet, the expenses for multiple streaming services can add up quickly.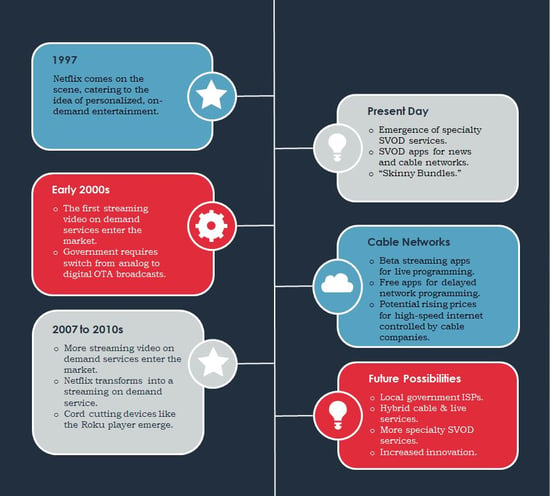 Since each streaming service has different types of content, it can be challenging to choose just a few. According to CordCutting, streaming services that offer "skinny bundles" can be a cost-effective alternative. "Skinny bundles" offer access to live cable channels, although the package is less than what you could get from cable. Sling TV and Hulu Live are examples of "skinny bundles."

Other popular options include services like Netflix that offer non-live TV and movie content. Depending upon the service, you can choose from different subscription tiers for Ultra HD streaming and simultaneous streaming from more than one device. Access to original or exclusive content is often a motivating factor when selecting these types of streaming services.

Premium channels such as Hallmark and HBO also market streaming services with exclusive content. Some channels like Hallmark have streaming services that only play movies produced by the network. Disney and Apple have also announced plans to launch streaming services that will feature exclusive content. Disney Plus will feature movies and programming produced by Walt Disney Studios, while Apple TV+ will feature Apple's original content. Both services are scheduled to launch in November of this year.

While paid streaming apps are increasing, so are the availability of free apps that provide delayed or next-day access to broadcast and cable network programming. Some cable providers have also started delivering live cable programming through a beta streaming app instead of through a cable box. Public libraries have even started giving patrons free access to independent and award-winning programming through apps such as Kanopy.
The Future of Streaming
Streaming services stand to eventually replace cable subscriptions as older generations continue to cut the cord and younger generations skip cable altogether. Many consumers are beginning to combine over the air options with either a digital antenna or a local live-streaming app and SVOD services, according to CordCutting.
While competition is probably going to increase, more specialty and hybrid cable/live services will likely become a significant portion of the streaming landscape. However, cable companies that also provide high-speed internet services may start to increase prices or start implementing stricter data caps warns USA Today.

Cable companies that own the broadband infrastructure may be able to capitalize on this control in the short-term, but city governments and smaller competitors are already looking to reduce internet monopolies and oligarchies. While there may be some uncertainty as to the future of television and streaming, companies willing to produce innovative solutions to match consumer preferences stand a better chance to win.

Share your thoughts about the cord-cutting revolution below.