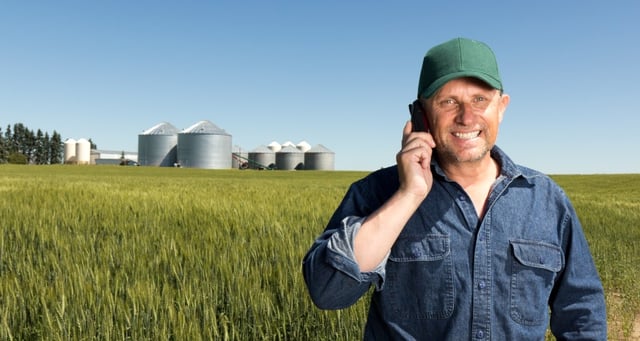 Earlier this year, we explored how people use their smartphones. People who work in agriculture, especially the next generation of farmers, are increasingly turning to digital and mobile technology to manage their business. You'd be amazed at how much you can actually accomplish from your phone while standing in the middle of a field!
Tracking the Elements
From the soil to the weather, farmers have to know as much as they can about their environment to keep their crops healthy. In drought-stricken areas, technology can save water-starved farms. Tom Rogers, an almond farmer in California, is using wireless moisture sensors that automatically alert a drip tapes system to water his fields less but more often. Rogers told The Economist that he is now using 20% less water, which is saving him money and helping conserve depleted aquifers.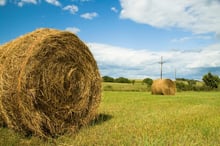 Farmers and their employees also use smartphones to:
Navigate fields
Identify weeds, diseases, and pests
Calculate fertilizer and chemical blends
Check rainfall measurements
Meet with agricultural advisors
Track grain harvests
Most apps allow data to sync across multiple devices and platforms, so farmers can take notes in the field and have them readily available when they get back to the office. You can check out some of the newest apps and updates over on CropLife.
Taking Care of Business
Smartphone and tablet apps don't just cover field tasks—many farmers are running their business while they're away from their desk. "The applications they have available now make me more efficient," Brandon Fahrmeier, a Missouri farmer, told the Missouri Farm Bureau.

The app he uses most often is Time Master, which helps track who was working on what, plus when and how long they spent on the job. Fahrmeier later downloads that information for accounting and payroll purposes. Farmers can also track up-to-date commodity prices and news throughout the day, so they can make the best business decisions, regardless of where they are.

Even though smartphones are a useful business tool, a common worry among farmers is how breakable smartphones can be. Heavy duty cases can save phones from most falls. Super durable phones like the Cat S60 have built-in protection against water, mud, extreme temperatures, and drops.

Farming Data, Not Just Crops
Like other industries, data plays a huge role in many farm operations. Minute-to-minute data can be crucial for sensitive crops. For example, a group of farmers and developers created a remote greenhouse temperature sensor in 2011 out of a basic Arduino system, a modified GSM cell signal, and a cell phone. The system sends text alerts when temperatures get too low or too high. The community, called Farm Hack, now hosts projects of all kinds to help farmers build cheap, sustainable solutions to common farm problems. One of the co-founders of Farm Hack, farmer Dorn Cox, is even testing the temperature sensor against more expensive science-grade counterparts in partnership with the EPA and the Department of Agriculture.

Automatic alerts are just the beginning of smart farming. "Farming isn't tied to an office, and farm information shouldn't be either," Breanne Kielich, a manager for Farm at Hand, told Agriculture.com. Applications like Farm at Hand use cloud computing to give farmers access data wherever and whenever they need it. Many of these apps are free, although some include premium services like instant consultations with agricultural advisors.

Smartphones aren't just the future of communication; they're the future of business, especially for farmers who spend long hours outdoors. They allow farmers of all kinds to work smarter, not harder, to feed our world.