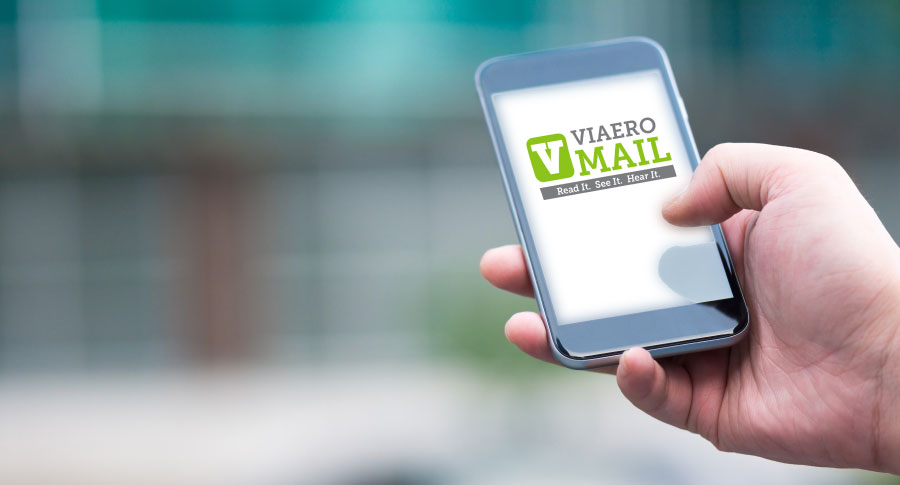 In one of our previous blogs, we covered some of the basics of visual voicemail for smartphones. Visual voicemail lets you look at and listen to your voicemails from an app, rather than having to call from your phone.

One of the conveniences of visual voicemail is that messages from known telemarketers and spam callers can be deleted. You don't have to suffer through hearing a robocall recording or voice message about an expired car warranty.

This post will explore more of the advantages of visual voicemail, how to set it up on different smartphones, and how to use Viaero's Vmail.
What Is Visual Voicemail?
Cellular carriers sometimes include transcription features as part of visual voicemail. Some also charge for transcription and visual voicemail, while other carriers include the options at no extra cost. Many carriers have proprietary or carrier-specific apps that come preinstalled when you purchase a new smartphone.

WhistleOut lists some of the common features of these apps:
See all received and stored messages, including date, message length, and phone number or contact name.
Choose which messages to listen or relisten to first, even if they're not in consecutive order.
Delete and save messages.
Listen to messages via speakerphone.
Pause and restart messages.
If transcription is included or available as a separate feature, you may also get your voicemails through text message or email.
Reasons to Use Visual Voicemail
Accessibility is one of the top reasons to use visual voicemail. Instead of having to dial your cell phone number and put in your voicemail password, you can see all your messages at once. By being able to see who the messages are from, you can also prioritize them.

Although standard voicemail settings let you skip and delete messages, you must listen to the first few seconds of the message. You also have to go through the messages in the order they were left, according to the date and time. With visual voicemail, you can delete messages you don't want to listen to by swiping left or touching the delete icon.

Also, if you have a voicemail from a friend or a relative you think is important, you can listen to that message first. When you save or archive voicemails, you'll be able to tell at first glance who those messages were from and the date you received them. A visual voicemail app makes it easier to delete saved voicemails once you no longer need those messages.

Transcribed voice messages offer another level of convenience since you don't have to listen to them. If you're in a meeting or another setting where there isn't much privacy, you can still scan your messages. Transcribed messages can be easily forwarded to an email address or another person through text.
How to Set Up Visual Voicemail on an iPhone
If your carrier has a visual voicemail app like Viaero Vmail, you can open the app to get started. Otherwise, you can change the settings within an iPhone's phone app. Apple's knowledge base article outlines the setup process.
Within the phone app, select "Voicemail."
Choose "Set Up Now."
Set up a password for your voicemail, then select "Done."
Enter the password a second time, then select "Done."
To set up your greeting, choose "Default" or "Custom" to record a personal greeting.
Select "Save."
How to Set Up Visual Voicemail on an Android
The process of setting up visual voicemail on an Android phone works in much the same way as an iPhone. You can either use your carrier's preinstalled app or go into the phone app. On an Android's phone app, you can perform the following steps which can vary depending upon the phone model:
Click on the three dots in the three dots in the right-hand corner.
Choose "Settings."
Click on "Voicemail."
Choose "Advanced Settings."
Turn "Visual Voicemail" on.
Using a Carrier's App
The settings in a carrier's visual voicemail app will vary. Some apps will let you record your greetings, while some won't unless you upgrade to premium features. The standard features of Viaero's VMail app are included, with transcription features available for an additional fee.

The VMail app comes preinstalled on phones purchased from Viaero. Other carriers may also have similar apps preinstalled or available for download. While some of these apps can be intuitive to use, it's always helpful to know the ins and outs.

Here's a snapshot of how to use the Viaero VMail app:

Overview – When you first open the app, you will see a screen that looks like this: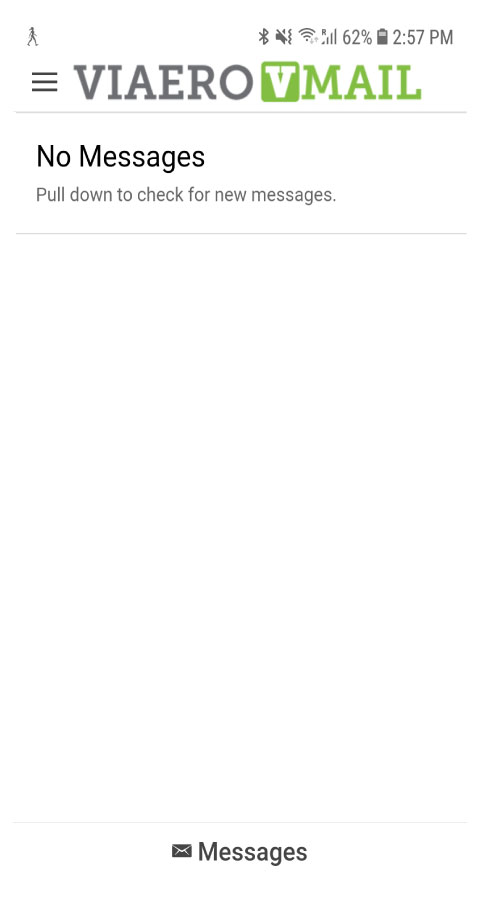 Messages – Once you receive messages, you'll be able to see them according to date and time. You can click on the ones you want to listen to, or swipe left to delete them.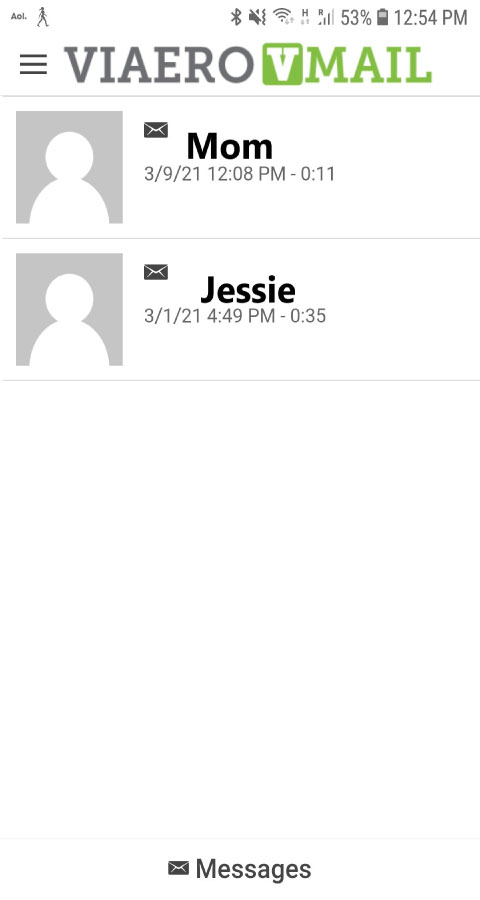 Greetings – To view or record your voicemail greeting, tap the three bars to the left of the Viaero VMail logo at the top. From the next screen, tap on "Greetings."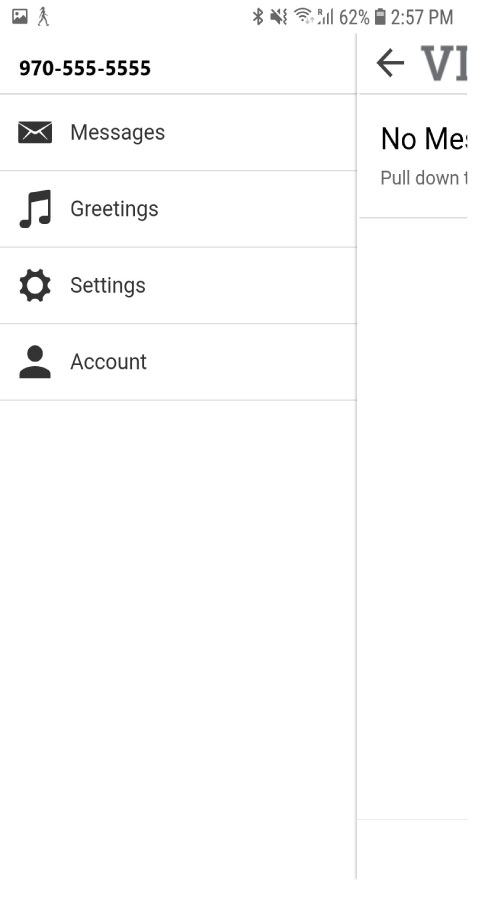 Settings – To see your voicemail app's settings, tap the "Settings" gear icon under "Greetings." This will pull up the following screen: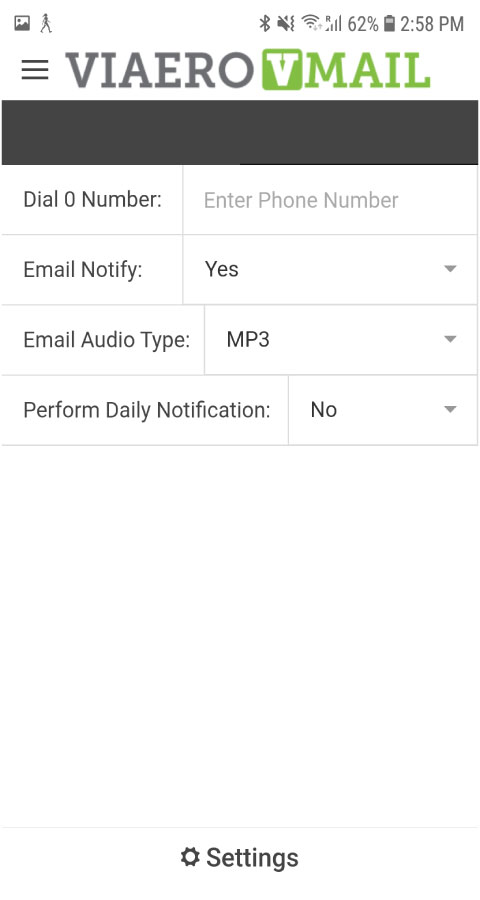 Account – To check your account information, tap the "Account" tab under "Settings." You will see the screen below: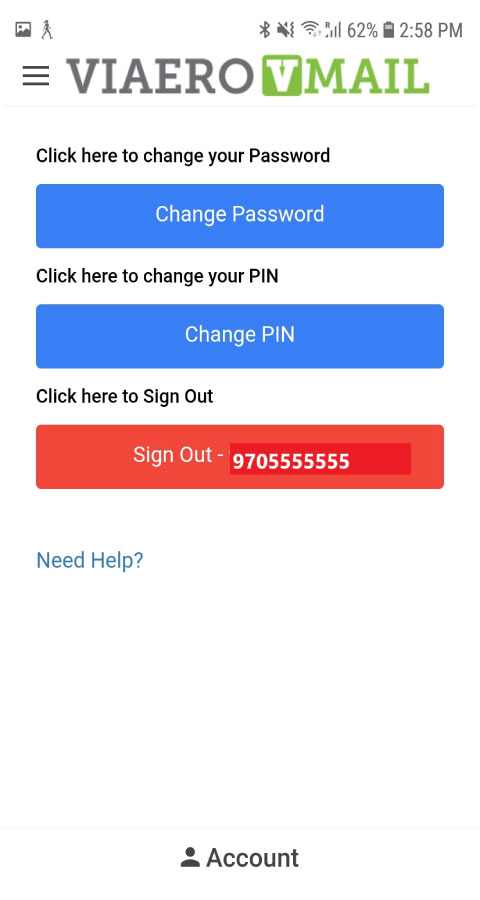 Troubleshooting Common Problems
Many of the common problems with regular and visual voicemail are similar. For instance,

• Your voicemails don't appear or load in the app.
• The voicemails sound garbled or have low volume.
• Voicemail notifications do not appear on your phone.

Typically, the solution is related to the cellular data or Wi-Fi connection, the voicemail app, your phone's software version, or the voicemail feature itself. There are certain steps you can perform to help resolve the problem(s).
Double-check your cellular data or Wi-Fi connection for signal strength. If your phone is connected to both, try shutting off one of the connections.
In some cases, you may need to restart your phone and reconnect.
Check your phone's main settings to see if any updates are needed.
You can also check the app to see if there are pending updates to install.
Try uninstalling and reinstalling the voicemail app.
Try calling your voicemail manually to see if you're able to access messages. If not, there could be an issue with the voicemail feature on your account.
Overall, visual voicemail can be an easy-to-use tool. You can instantly see how many voicemails you have, prioritize them, and know who they are from. Adding on features like transcription can make visual voicemail even more worthwhile.

Looking for a cellular plan that supports visual voicemail? Check out Viaero's unlimited plans here!

What are your thoughts about visual voicemail? Tell us below!