Fort Morgan, Colorado, March 21st, 2019: The recent cyclone bomb blizzard brought historic flooding, damage, and devastation to several Midwest states, including Nebraska. According to Kristen Martin, Community Outreach Manager for Viaero Wireless, the storm's aftermath resulted in "lots of devastation all over" with "bridges out, houses floating down the river, and livestock lost." Due to the extent of the damage, Viaero Wireless is offering billing assistance to its Nebraska customers impacted by the storm.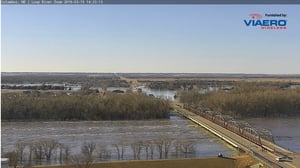 Flooding in Columbus, NE, Mar 22, 2019
(Image from Viaero Wireless Columbus Tower)
Nebraska customers in need of assistance can contact Viaero's customer service at 1-877-744-1850. Viaero's Customer Service Representatives are available to discuss customers' situations and help them maintain their wireless service during this difficult time.
Viaero Wireless recognizes the financial difficulties our customers are facing as a result of the floods. "Viaero is always fast to respond to emergencies that affect our neighbors. We want our customers to know Viaero is here to help them," states Mike Felicissimo, Executive VP and CFO of Viaero Wireless. "They are an important part of our Viaero family."
About Viaero Wireless:
Viaero Wireless is a leading rural provider of wireless and entertainment services that keep our communities connected with reliable, advanced, and valuable solutions through nationwide and global partnerships.