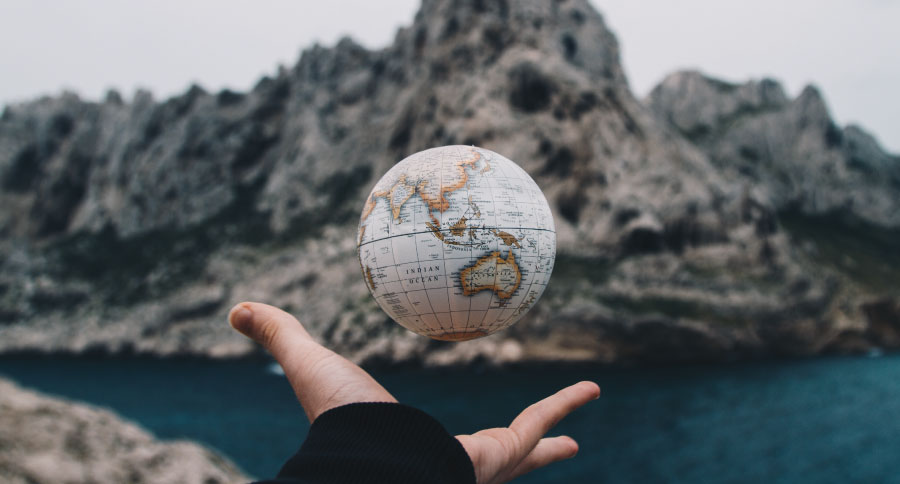 Have you ever wondered what others around the globe pay for the data they use on their smartphones? You might be surprised to find out that North American countries pay some of the highest rates on average. As reported by Niall McCarthy with Forbes, the average cost per gigabyte of data in the United States is $12.38. Despite these higher averages in the U.S., residents of Zimbabwe pay the highest rates in the world at $75.20 per gigabyte.
What Drives Price Differences?
In general, two different factors drive the prices of mobile data plans within individual countries and global regions, according to Kavita Iyer with TechWorm. The existence of a robust mobile data and broadband infrastructure is one. A second factor is a high dependence on mobile data versus broadband networks.

Where mobile data and broadband networks are strong, service providers can usually offer plans with higher data allowances. This leads to lower averages, but costs can still vary within different areas of a country or between countries in the same region. In cases where more residents need to rely on mobile data to access online resources, market forces tend to drive average prices down.
How Do Prices Compare Around the World?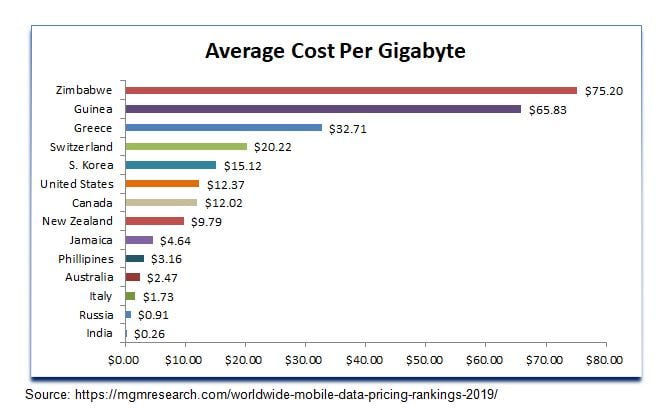 As the chart indicates, the variances in average prices of mobile data usage around the globe can be extreme. From a regional standpoint, Asia, Europe and most of South America tend to have some of the lowest average prices. However, isolated areas of Europe and Africa have higher average prices comparable to North America or higher. India currently holds the record of having the lowest average mobile data prices at only $0.26 per gigabyte.
Consumption Patterns
The number of mobile data subscribers increased from 7.80 billion to 7.97 billion between 2017 and 2018, according to a report published by Research and Markets. Subscribers in North American countries reflected the highest usage rates, at an average of 5.1 GB per month per user. Those in the Western Europe region used an average of 2.7 GB. Although the growth of new subscribers that use mobile data every month is beginning to slow down in North America and Europe, the growth rate is beginning to take off in India and China.
Market Competition and India's Low Prices
India's low average prices could lead to envy among many subscribers around the world, once they become aware of the disparity. However, India's lower prices may not last, according to BBC News. One of the reasons why the country can enjoy the cheapest unlimited data plans is because of strong market competition.

As several large data providers have vied for subscribers, average prices have been driven down. Temporary promotional offers from new providers have also influenced the lower average prices. Experts believe since providers' low-profit margins are not sustainable long-term, India's data prices will eventually increase.
Getting a Better Deal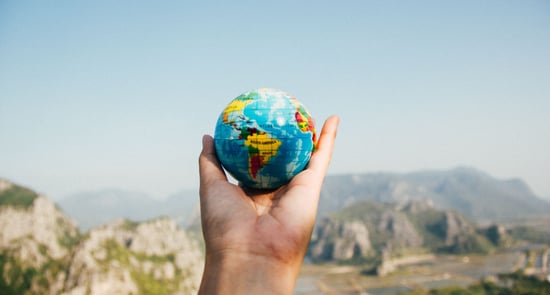 While unlimited data plans have become the norm around the globe, not all unlimited plans give you access to truly unlimited mobile data. With an unlimited data plans comparison, you can look for the following features to get the most value:
Unlimited talk, text, and mobile data within a local extended coverage area, such as across the U.S. or within North America.
A mobile hotspot.
No throttling or slowing of data speeds once you've used a certain amount of data per month.
4G LTE data or higher.
No data or usage caps.
Bonuses such as streaming TV or music discounts.
Many of these features are standard with our Unlimited HD and Unlimited HD+ plans. Learn more about them by clicking here.

While subscribers in the U.S. may pay more for their mobile data on average than other countries, knowing what to look for and how to get the best value can make the money you spend on wireless stretch farther. It is also possible that with more technology upgrades and the expansion of high-speed data networks across rural communities, the average prices of mobile data in the U.S. could begin to slightly decrease. Share plans can also help families control their spending on mobile data, with customized data allowances where you only pay for the amount you use.

Check out our previous blog post, "The Trick with Unlimited Data Plans," for additional tips on choosing the best unlimited data plan for one person, the best unlimited data plan for 2 lines, and other scenarios.

Tell us your thoughts about mobile data prices around the globe. What steps have you taken to get the best value? Please leave your comments below.